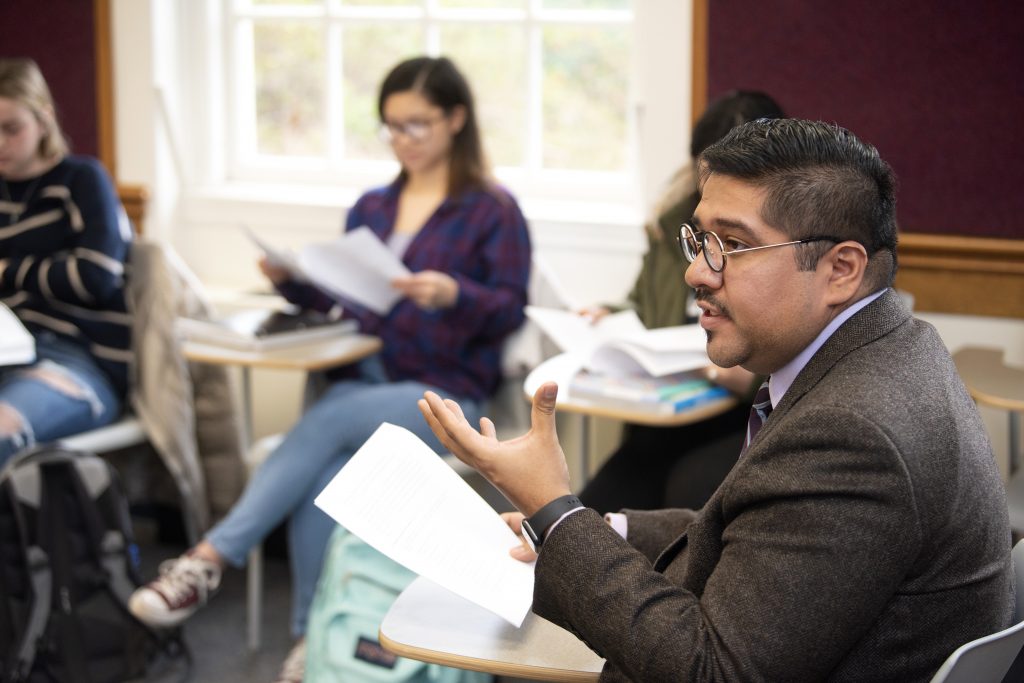 About the Digital Humanities Minor
Learn, collaborate, make. These are three of the pillars of Digital Humanities (DH) work at Bucknell University. Students who minor in the Digital Humanities will develop critical skills in the interpretation, analysis, and evaluation of humanistic research questions and the methodologies of DH, such as textual analysis, geo-spatial visualization, network visualization, and new media.
But minoring in the Digital Humanities is not just about developing skills and understanding a vibrant and interdisciplinary field. The DH minor is structured such that students apply their skills by working in collaborative teams – with other students, librarians, and professors alike – to solve complex, multifaceted problems. Such collaboration happens both within and beyond the classroom, and students who minor in DH will have multiple opportunities to work with a professor on developing a research project with real-world applications.
The research, technological, and practical abilities that the DH minor instills has – and will continue to – serve students' academic and professional goals well beyond their time at Bucknell.
Learn about the Digital Humanities Minor at Bucknell from Maureen Maclain, an alumna of the program!
Ethan Pepin, an alumnus of the program, talks about his experience obtaining the Digital Humanities Minor at Bucknell.
Requirements
To satisfy the DH Minor, a student must complete:
Two foundational courses (see course catalog)
Two elective courses (see course catalog)
One credit of HUMN 319 (an independent study)
Final Digital Humanities (DH) Portfolio
The DH portfolio should demonstrate a student's creation of artifacts in courses already taken and also (if appropriate) DH work components of a thesis (departmental/honors). The student will create a website (e.g., WordPress) that consists of both digital artifacts and a narrative that analyzes how these pieces fit together (a digital manifesto). Students may receive feedback from members of the coordinating committee of the minor in DH before the formal submission of the digital portfolio. This final portfolio will be submitted to the coordinating committee of the minor in DH for formal approval.
More information about these requirements can be found on the Bucknell course catalog.
Sample Materials
Contact
If you have additional questions, please contact Dr. John Hunter, Chair of the Comparative & Digital Humanities Department, at jchunter@bucknell.edu.