Digital Humanities at Bucknell
Mission
History
Bucknell University has long been involved in digital research and scholarship. As early as the 1990s, Bucknell established an instructional technology group, known as Instructional Technology Enhancing the Curriculum (ITEC), to help address technology needs of faculty members. In 2003, the Library and Information Technology (L&IT) opened a digital repository program to assist faculty, students, and staff with the creation, dissemination, and preservation of digital content and materials. This program operated through 2009, when L&IT expanded its services to include the position of a GIS (Geographic Information Systems) Specialist. The GIS Specialist works to integrate spatial thinking in research and teaching across the Bucknell curriculum by providing access to ESRI's suite of GIS tools, including ArcGIS Desktop, ArcGIS Pro, and ArcGIS Online, for Bucknell students and faculty. Bucknell University currently has two GIS Specialists, who also operate the "GIS Underground," a GIS lab located in Bertrand Library. For more information about GIS at Bucknell, visit the GIS at Bucknell website.
In 2011, Bucknell investigated ways to augment its support of digital research and scholarship. These efforts came to fruition in 2013, when the Andrew W. Mellon Foundation awarded a grant to the university in order for Bucknell to establish a Digital Scholarship Center in Bertrand Library. This developed into Digital Pedagogy and Scholarship (DP&S) at Bucknell, which refers to any pedagogical or research initiative that involves digital tools (i.e., it is not limited to humanistic forms of digital inquiry). The Library and Information Technology (L&IT) staff at Bucknell is in charge of the DP&S initiative. To learn more about Digital Pedagogy and Scholarship at Bucknell, visit the DP&S website.
In the 2016-2017 academic year, Bucknell officially launched its Minor in Digital Humanities, which is one of the few formal undergraduate programs in the growing discipline. Courses that are part of the major emphasize hands-on research, in which students learn and work alongside their professors, often with the intent of publishing their findings online. Students who elect to obtain a Minor in Digital Humanities are also expected to create a portfolio of their digital humanities work.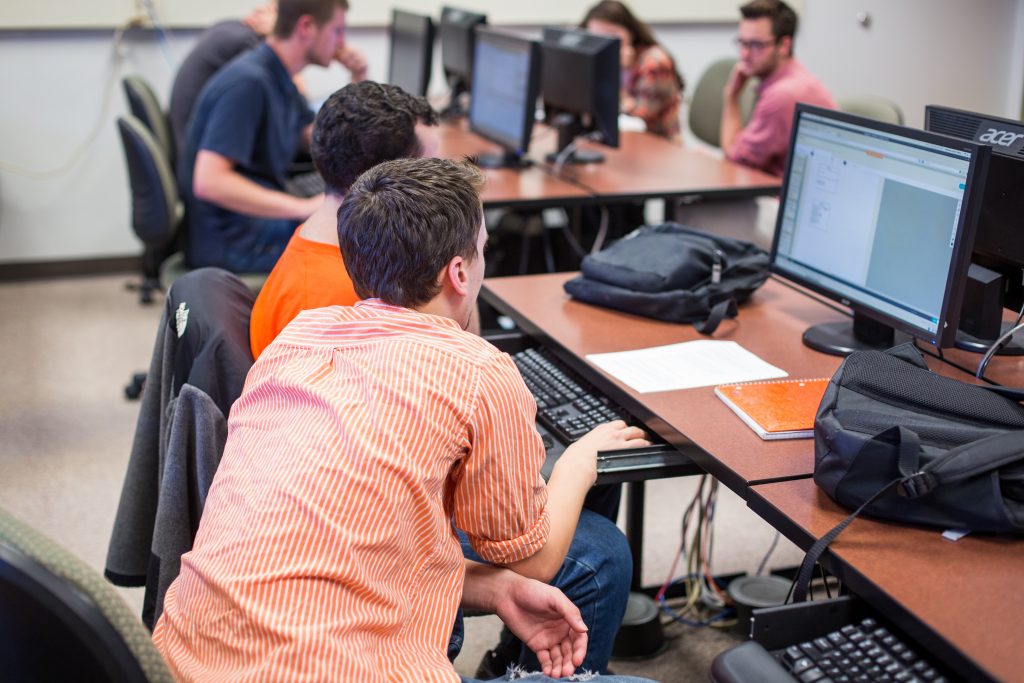 Students are engaged in many kinds of Digital Humanities projects at Bucknell.
Digital Humanities work at Bucknell was also bolstered in 2016 with the establishment of the Bucknell Humanities Center (BHC), which is housed in Hildreth-Mirza Hall. The BHC provides dedicated space for collaborative research undertaken as part of a Digital Humanities project, including the space known as the Humanities Lab (HumLab). In 2019, the BHC established the position for a Digital Humanities Postdoctoral Fellow, who provides dedicated faculty and student DH support. For more information about these initiatives, visit the Bucknell Humanities Center website.